Cybersecurity
What Is a VPN?
Mark Lukehart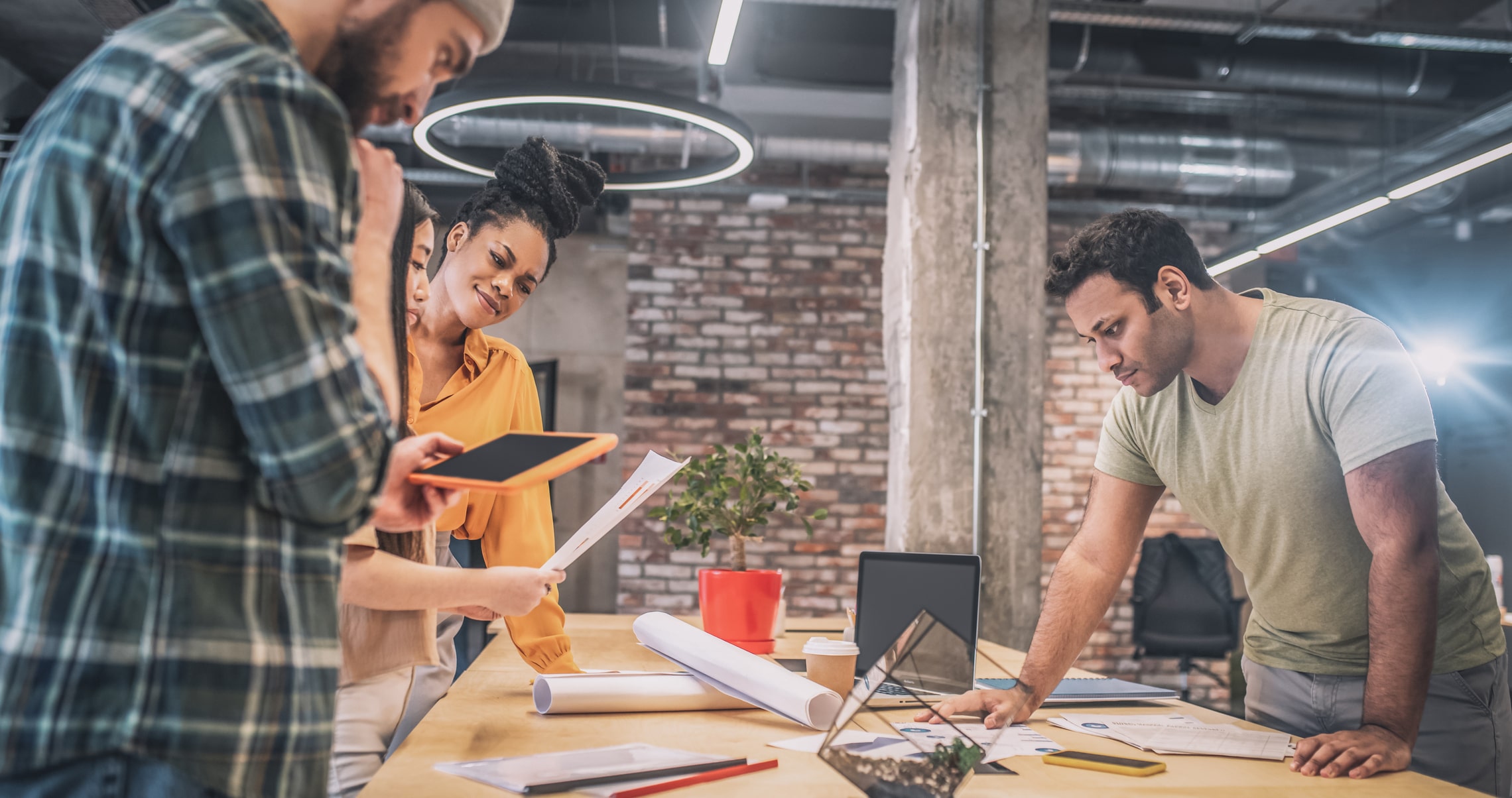 Between remote work and personal web browsing, people today are spending more time online than ever before. The average consumer uses the internet for everything from banking to shopping to socializing.
These digital conveniences make our lives more efficient, but they also come with increased cybersecurity risks.
One way to mitigate some of these risks is with a VPN or virtual private network. VPNs protect your online activity and help keep you safe on the web, but how do they work, and why are they so important?
Key Points
VPNs use a data encryption tunnel to route your web traffic through remote servers, which protects it from outsiders.
VPNs mask your IP address and location by using servers all over the world.
Using a VPN is one of the most efficient ways to keep sensitive web traffic safe even when you're traveling or working remotely.
VPNs are a cost-effective way for growing businesses to keep remote data safe.
Some VPNs can compromise the speed of your web traffic.
What Is a VPN?
A virtual private network, or VPN, is a tool that encrypts your internet connection. This secures your digital activity so that hackers and other online interlopers can't see it.
VPNs also protect your browsing history from your internet service provider (ISP), government agencies, and corporations. VPNs use remote servers to hide your IP address so outsiders can't see where your web traffic is coming from.
Types of VPNs and Their Use Cases
There are a few different types of VPNs out there. While they all serve roughly the same purpose, they are each used for different purposes.
Remote access VPN: This type of VPN is usually used for business purposes. These VPNs allow employees to access their company networks remotely using a secure connection.
Personal VPN: With a personal VPN, individual users connect to the VPN server, which then encrypts or masks their location. There are many free VPNs that fit this description; although, there are others like NordVPN that use a paid subscription model.
Site-to-Site VPN: This is another type of VPN that is typically used for business. This VPN connection joins two networks, allowing them to communicate and share data securely. These VPNs are popular among organizations with multiple office locations but are also used between two or more different organizations working together.
Mobile VPN: These VPNs are designed specifically for mobile devices like smartphones or tablets. These VPNs are particularly helpful for those who need a secure and reliable connection while working on the go.
Benefits of Using a VPN
There are many benefits to using a VPN, whether you're a growing business or just want to protect your individual browsing history. Today's consumers are certainly taking advantage of these benefits: Roughly 30% of people use VPNs for personal use, while 24% use VPNs for business use.
Here are some of the reasons to consider using a VPN service if you aren't already:
Enhanced security: The cybersecurity benefits of using a VPN are hard to ignore, particularly if you work from public Wi-Fi networks often. The VPN's encrypted tunnel shields your information from dangerous cyber criminals.
Remote access: VPNs are particularly helpful for those who need secure remote work options, as they allow you to connect directly and securely to your company's network. With a VPN, you can work from a coffee shop, hotel, or airport without worrying about security breaches.
Privacy protection: Many consumers worry about both advertisers and government agencies tracking their browsing activity, but VPNs are an effective way to prevent this.
Affordability: VPNs are a relatively simple and cost-effective way to secure both your remote work and your personal browsing activity.
Geographical restrictions: If you want to access web content that is not available in your country, a VPN makes it easy to do so via a foreign server. Many people use this to access social media content or even streaming services that aren't available in their country.
What Should a Good VPN Provide?
There are many VPN providers on the market, and finding the right one for your needs is a tricky process. You'll want to make sure that your VPN has the features you need to properly protect all of your web traffic.
Here are some of the features to look for when selecting a VPN.
Security
Security is one of the most important features to look for in your VPN. In particular, it's important to look at the encryption protocol.
AES 256-bit encryption is the gold standard for VPN security, as it's virtually impossible to crack even with maximum computing power. Your VPN provider should regularly audit their technology to identify and address new security threats that arise.
Additionally, the system should be compatible with leading VPN protocols like OpenVPN, IKEv2, and WireGuard, and should be updated as necessary to remain compatible with the latest technologies.
Your VPN should always have a kill switch feature. This will disconnect your device from the internet if the VPN connection fails to make sure that none of your internet traffic is vulnerable.
Privacy
You'll need to make sure that your VPN has the technology to keep your browsing completely private. Before using a VPN, check to make sure that your provider has a no-log policy to prevent internal data collection, as well as a DNS leak protection feature to ensure that your ISP isn't collecting your data either.
Speed
The speed of your internet connection can make or break your online experience. Your VPN should protect your online activity without interfering with your Wi-Fi speeds.
Keep in mind that not all ISPs are fast enough to support VPN use. For personal browsing at home, you'll typically need speeds of at least 25 Mbps, while VPNs for business use might need even faster speeds.
Compatibility
It's important to make sure that your VPN is fully compatible with all of your operations.
Check to make sure that your VPN has servers that are powerful enough to support your typical browsing activity, whether that's working or enjoying your favorite shows and games.
You'll need to choose a VPN that's compatible with a wide variety of devices and apps. This should include support for Windows, Mac, and Linux computers as well as iOS and Android smartphones and tablets.
Support for smart TVs and gaming consoles is also helpful if you're planning on using the VPN for entertainment as well.
Reliability
You should be able to use your VPN at any time without worrying about performance or security issues. Read customer reviews to learn more about the general speed and availability of different providers. Your provider should still offer 24-hour customer support options just in case any issues do come up.
Server Network
Ideally, a VPN should have a large network of servers all over the world. This creates redundancy to prevent system downtime and support high-traffic volumes.
Your VPN should allow you to choose the location of your server for flexible web browsing.
Additional Features
Many VPN providers offer a variety of helpful additional features. For example, some providers offer split-tunneling, which allows you to run some of your web traffic through a VPN and some traffic outside of the VPN.
Other providers might offer enhanced security features like ad-blocking and malware protection, as well as firewalls and other tools that you can install in addition to your VPN.
VPNs in the Workplace
In the age of online and remote work, VPNs are a very helpful tool for growing businesses. With a secure VPN, your employees will have reliable internet access on the go. Access to a VPN will help your team stay productive no matter where they're working.
VPNs are very helpful for keeping your intellectual property secure and private. Your team members will be able to work and share data without worrying about it being compromised.
Many companies need to use VPNs and other cybersecurity tools to comply with industry laws and regulations. This is particularly important for companies that handle secure customer data.
How Does A VPN Work?
VPNs use a network of secure servers to protect your internet connection. When you connect to the internet, it creates a fully encrypted VPN tunnel between your device and these secure servers. Your web traffic then runs through the secure server, which masks your IP address.
The VPN essentially acts as a middleman between you and the websites you're visiting. Because your web traffic is fully encrypted, hackers and other outside sources won't be able to view it.
Encryption works by scrambling your data using cryptography. Your data can only be accessed with the correct digital key.
VPN providers use one of many VPN protocols. There are several different VPN protocols available, each of which has its upsides and downsides. OpenVPN is a popular open-source protocol that is one of the most reliable options on the market.
Other popular VPN protocols include IKEv2, which was developed by industry leaders like Microsoft, as well as L2TP, which is less secure but better at connecting to mobile devices. WireGuard is a new VPN protocol that is still developing but offers very high speeds.
Are There Any Downsides to a VPN?
While VPNs offer plenty of upsides in terms of security and privacy, there are also some downsides to keep in mind.
Slower Internet Speeds
One of the biggest downsides of using a VPN is that it might slow down your internet connection. The encrypted connection that a VPN uses more bandwidth than an unencrypted connection, which can slow down your speeds. Upgrading your ISP can help you prevent this from happening.
Compatibility Issues
Not all VPNs are compatible with every operating system or device. This can be particularly frustrating if you need to upgrade your technology at any point and find that your VPN is no longer compatible with your device. If you use many different devices in your work, make sure to select a VPN that is compatible with all of them.
Cost
VPNs vary widely in cost. While some VPNs are free, others come with either a one-time fee or a monthly subscription model.
The most powerful VPNs usually come with the highest price tag. For organizations on a tight budget, it can be difficult to find a VPN with a balance of performance and affordability.
Connection Drops
It's possible for your VPN connection to drop if the server is experiencing more traffic than it is designed to handle. When this happens, you run the risk of a "data leak", which leaves your web traffic exposed.
This means there's a higher chance of hackers intercepting your data, particularly if you're using public Wi-Fi. It's particularly important to choose a VPN provider with a robust server network to prevent these outages from happening.
Security Risks
Not all VPNs are created equal. A poorly-designed VPN could end up putting your web traffic at risk. Because of this, it's so important to vet your VPN thoroughly before using it.
In particular, make sure to review the VPN's internal privacy and security policies. They should have their own cybersecurity strategy to make sure their servers won't be tampered with.
Blocked Websites or Services
Some websites and software providers have blocked traffic coming from VPNs. Streaming services like Netflix and Hulu are the most notorious for blocking VPNs, as they want to prevent users from watching content that is only available in different countries.
If you're planning on using a VPN to access content that isn't available in your country, you'll need to be aware that some sites may block your traffic.
Stay Safe Online With a VPN
VPNs are one of the most effective ways to keep your browsing history and digital data secure. Whether you're a business that needs to protect your entire network or just want to protect your individual browsing data, you should add a VPN to your suite of cybersecurity tools.