IT Support
What Does an IT Support Specialist Do?
Mark Lukehart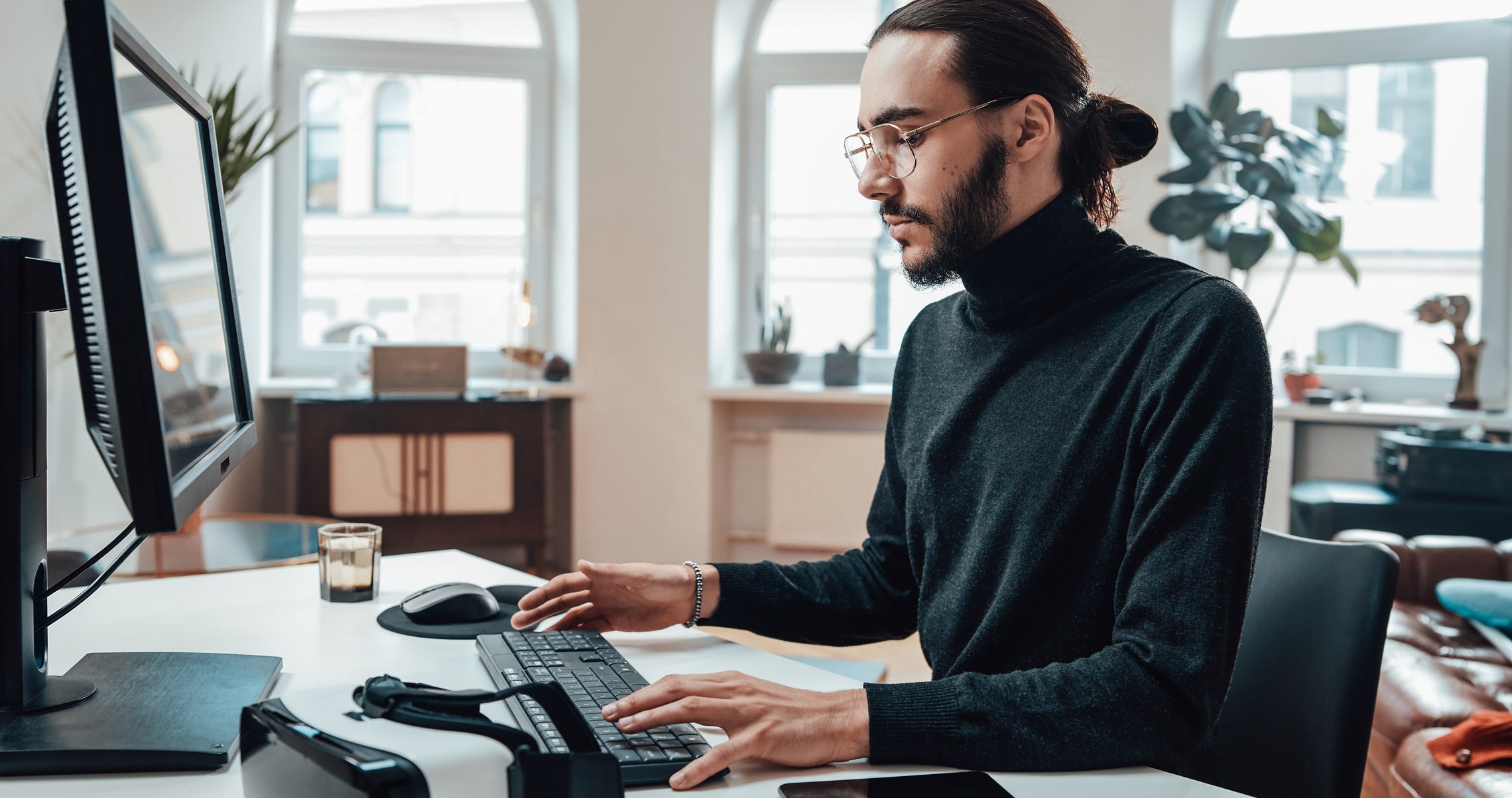 If you are good at problem solving, know how to think on your feet, and have strong computer skills, you might enjoy a career as an IT support specialist. IT support specialists serve a very important role in any organization and are in very high demand, especially because of today's highly digital work environment.
In this article, we'll take a look at what IT support specialists do and the skills they need to tackle a variety of tasks throughout their workday.
Key Takeaways
An IT support specialist works with both colleagues and customers to troubleshoot computer and system issues.

IT support specialists are in high demand right now. There is a skills gap in the US that makes it difficult to find IT support specialists. As a result, these roles can command a high salary.

Most IT support specialist jobs require a bachelor's degree in computer science or something similar, but not all do.

In addition to technical skills, IT support specialists need to master soft skills like communication and problem solving.
What Is an IT Support Specialist?
Information technology (IT) support specialists help others solve problems with their computers, mobile devices, and other forms of technology. In addition to troubleshooting, IT support specialists also install new hardware and software as well as provide technology training.
IT support specialists typically provide support to other team members in their organization. However, some IT support specialists work directly with clients or customers. IT support specialists come from a variety of different backgrounds. Most have an associate's degree or bachelor's degree, but many learn computer skills in other ways, such as training courses or certifications.
What Does an IT Support Specialist Do?
IT support specialists are responsible for a wide variety of tasks. Throughout the day, they help either other employees or customers with IT questions and problems. Typically, users who need assistance will file a ticket with the IT team. IT support specialists work through these tickets throughout the day.
Each ticket can look different, depending on the types of problems needing to be solved. In some cases, it's a matter of answering questions and guiding the user through the process of fixing the problem. In other cases, the IT support specialist may need to assess the device in person in order to fix it.
Additionally, IT support specialists help with installation and maintenance of servers, computers, routers, software programs, and other pieces of technology throughout their organization. After installing new systems, IT support teams may provide training to other employees throughout the organization. They also manage system updates and data backups as well as implement cybersecurity measures to keep systems safe.
IT support specialists work with others in the IT team to carry out larger company-wide initiatives. This means that IT specialists need to be able to work both individually and in teams. IT teams will also need to document their projects as they work for future reference.
Within the IT support specialist category, there are many possible roles. For example, a computer network support specialist focuses specifically on maintaining networks throughout an organization, including cloud networks, LAN and WAN networks, and more. They back up data, conduct network maintenance, and keep the network secure so that their team always has access to a reliable connection.
A computer user support specialist provides guidance directly to users. Depending on the role, they might work with other employees in an organization or with customers. User support specialists need to be creative and think on their feet to solve a variety of common IT problems. User support specialists often have the option to work remotely. Some also work night or weekend shifts to ensure that users always have support available.
What Does It Take to Be an IT Specialist?
IT support specialists need to have a variety of different skills to perform their job successfully. In addition to technical skills, IT support specialists also need strong interpersonal skills, as they will deal with a variety of different people over the course of their workday. Below are some of the key skills that IT support specialists need to succeed in their jobs:
Technical Skills
Knowledge of modern technology is crucial for anyone working in the IT field. IT support specialists will need to be familiar with many different types of technologies, including the latest computers and networks. Because technology is always evolving, it's important for IT support specialists to continuously learn new skills and concepts such as the following:
Database Management
One of the most important technical skills for any IT support specialist is database management. Even if you don't specialize in data, many support specialist roles will require an understanding of how databases work, how to upload and organize data, and how to keep that data secure.
Some IT jobs also require a basic understanding of data analysis so you can identify trends and patterns in the data. If you do opt for an IT role that specializes in database management, you may also be responsible for planning and designing entire databases for your organization.
Coding Skills
Basic coding skills are another must-have for IT support specialists. While you may not necessarily be writing much code in your day-to-day, you'll still need to understand how code works and be able to read it.
The types of code you'll need to know will depend on the specific job you are doing. Having advanced coding skills can help you stand out in a competitive market, especially because there is a significant IT skills gap in the current market. This means that there aren't enough professionals with coding skills right now to fill all available roles.
Familiarity with multiple coding languages makes candidates even more attractive and can help them command a higher salary. Popular coding languages to learn include Java, HTML, C++, and Python—just to name a few. You don't need a computer science degree to learn how to code. In fact, there are many coding boot camps you can take online to master the basics.
Installation of Software and Hardware
Finally, IT support candidates will need to know how to install many different types of software and hardware. Most organizations upgrade their technology periodically to keep up with new innovations and trends. The IT team is typically responsible for the installation process. You may also be asked to train other teams to use new technologies.
Upon starting a new IT support specialist job, you'll need to completely familiarize yourself with the technology your organization is using. By understanding this technology inside and out, you'll be able to troubleshoot more effectively and find solutions. Depending on the specifics of your role, you may also be asked to select new technologies for your organization. You'll need to understand how your existing software and hardware programs work together and select new technologies that will integrate with them easily.
Soft Skills
In addition to the technical side of IT support, you'll also need to have a range of soft skills. Most IT jobs require you to work with people and think on your feet, so having these soft skills will make the work easier and help you stay productive.
Analytical Skills
Analytical skills are incredibly important for any IT job. You'll be juggling a variety of different tasks throughout your day, and you'll need strong analytical skills to quickly assess a situation and determine what steps to take next.
One important aspect of this is data assessment. IT specialists deal with large volumes of technical information and data every day. You'll need to be able to look at this data, determine how it affects your task at hand, and decide what steps to take moving forward.
Additionally, IT support specialists need excellent research skills. No matter how much technology experience you have, you will still encounter new problems and new types of technology. When this happens, IT professionals need to conduct research and find relevant solutions to the problem.
Finally, critical thinking skills are essential in any IT role, both for your own professional growth and the growth of your organization. You'll need to be able to think critically about your work and find ways to finish tasks more efficiently. On an organizational level, critical thinking skills will help your team innovate and improve your systems.
Communication Skills
Communication is a very important part of any IT support role, but it is often overlooked in favor of the technical skills required for the job. What many people don't realize is that IT professionals spend a significant portion of their day talking to other people, whether that's their coworkers or customers.
Strong communication skills make it easier to understand the technology problems people are having and address them properly. Good communication skills will also help you explain these solutions in a way that others can understand. Many technology experts use a large amount of jargon, which can be difficult for a layperson to understand. IT support staff who can communicate clearly will be more successful in problem solving.
IT professionals will also need written communication skills, as IT jobs typically require you to document your work for future reference. Additionally, some IT specialists will need to give presentations or training on new technologies.
Problem-Solving Skills
Finally, IT support specialists will need excellent problem-solving skills. Most of the day is spent troubleshooting problems with your systems or with other people's devices. You'll need to be able to assess the problem, decide on a course of action, and carry it through to the end. You'll also need to be able to think quickly and make changes if your initial approach doesn't work.
What Are The Qualifications Of An IT Support Specialist?
Knowledge of computer systems is the most important qualification for any IT support specialist role. However, there are other qualifications that will increase your chances of landing an IT support role.
Most organizations prefer IT support specialists to have a bachelor's degree in computer science or another related field. However, many organizations will hire applicants without these qualifications as long as they have the appropriate skill sets, because IT specialists are in such high demand. So it's possible to become an IT support specialist with an associate's degree or by getting IT-specific certifications. Some organizations will also look for applicants that have specific coding certifications in addition to their college degree.
Many companies will also expect IT support specialists to have at least one year of experience in a related field. While not required, experience in a customer service position will be very helpful for IT support work. Customer service positions teach important communication and problem-solving skills that are transferable to an IT role.
Frequently Asked Questions
What are the certifications an IT support specialist should have?
There are dozens, if not hundreds, of relevant certifications for IT support specialists on the market. Ultimately, any certification can be helpful if it's relevant to the work you're interested in. There are certifications available for specific programming languages, and major technology companies like Microsoft, Cisco, Google, and more offer relevant IT certifications. CompTIA, a non-profit that promotes technology education, also offers a variety of IT certifications.
What is the difference between L1, L2, and L3?
L1, L2, and L3 are three different levels of IT support specialists. L1 is a standard help desk role that offers basic customer support. L2 provides more in-depth or specialized technical support and handles problems that are too complex for L1. L3 is the highest level of support and is typically very specialized.
What makes an IT support specialist different from other technology-related jobs?
IT support specialist roles are unique because they focus on troubleshooting and working directly with others in your organization. Other tech roles, such as an engineer or developer, focus more on creating and implementing new technology rather than working with existing technology.