Managed Service Provider
Does Your Business Have an IT Strategy?
Mark Lukehart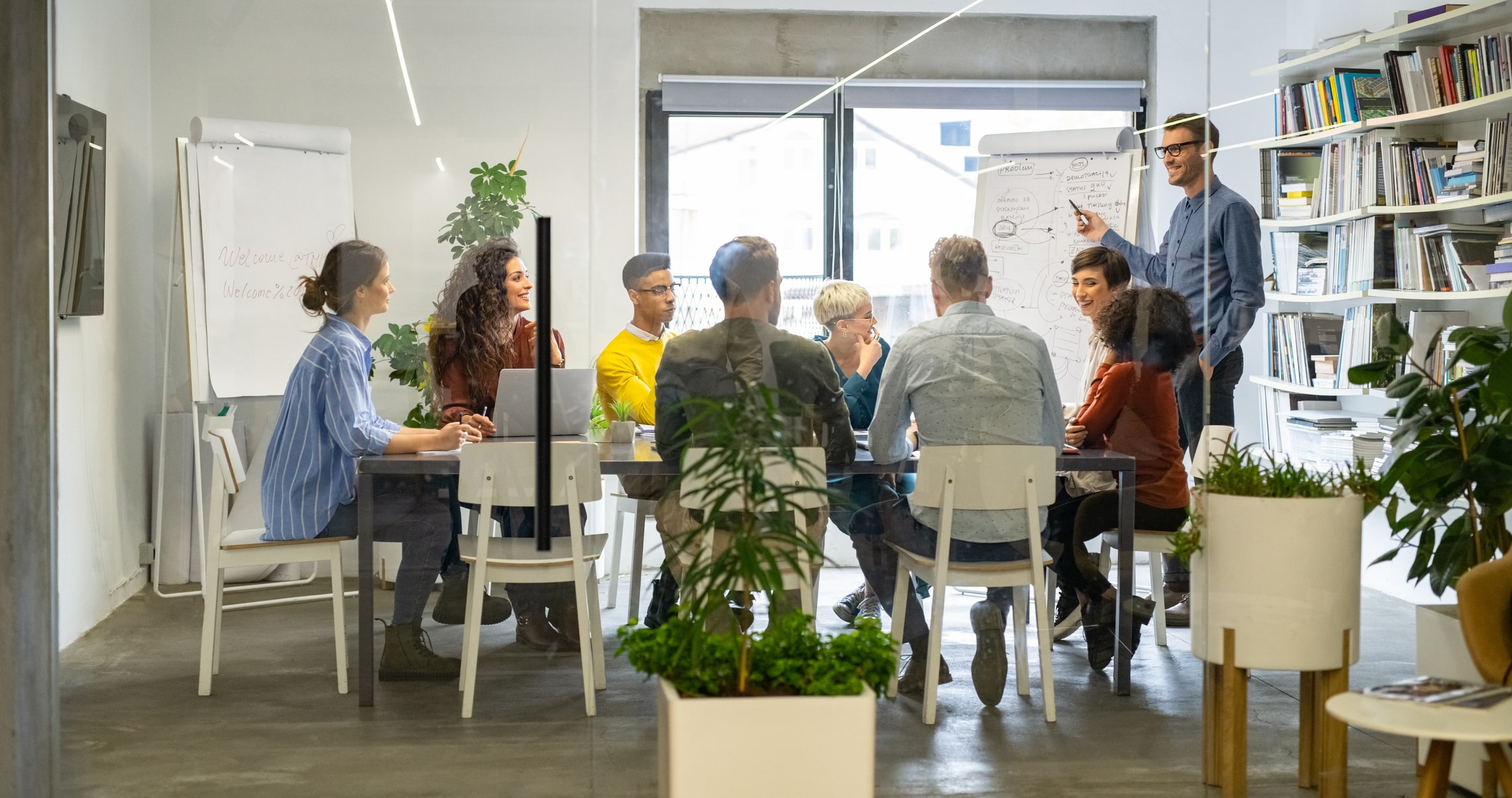 Information technology affects virtually every part of your business today. We use the internet to connect with customers, provide services, manage finances, and more.
In our highly digital world, flying by the seat of your pants won't help you reach your strategic goals. Your organization will need to put together a robust IT strategy plan to keep your digital operations running safely and efficiently.
If you don't already have an IT strategy in place, now is the perfect time to conduct an overview of your operations and develop a strategic plan for your technology. In this article, we'll review some of the most important components of a comprehensive IT strategy that your company can implement.
Key Takeaways
An IT strategy plan clarifies your company's IT assets, goals, and best practices. It should be highly detailed and address many different facets of your IT operations.

Implementing an IT strategy plan helps everyone in your organization stay on the same page so you can work together to achieve your goals.

A well-written IT strategy plan includes a variety of components, ranging from asset inventory to budget to security concerns and more.
Does Your Company Have An IT Strategy?
An IT strategy is a comprehensive plan that details your company's IT priorities and long-term goals and the steps you will take to get there. Your plan should also include information about your IT infrastructure, cyber security measures, and the technology best practices your employees can use during day-to-day operations.
Your IT leaders can re-evaluate this strategic planning process as your company grows and technology changes to ensure that your goals are still aligned with your needs. You can also implement an IT strategy as part of a digital transformation from paper to online operations.
Many companies today already have an IT plan in place as part of their broader business strategy. As of 2019, 70 percent of companies had a digital transformation strategy in place or were working to develop one. However, many IT strategy plans aren't detailed enough to be effective in the long term.
Additionally, many organizations wait to put an IT strategy into place until they have reached specific business goals. However, working without an IT plan can actually be detrimental to your growth and even cause confusion about the technology you are using.
Now is a great time to address the IT strategy that you already have in place and identify ways that you can improve it. If you don't already have a strategic IT plan, now is a great time to build one.
What Are The Components Of An IT Strategy?
An effective IT strategy is a very comprehensive document that serves as a technology roadmap to business success. Here are some of the components you can include as part of your IT strategic plan. Your team can add other components to your IT strategy depending on your objectives and the current state of your business.
Asset Inventory
Taking full inventory of your IT landscape is an important place to start when it comes to building your IT strategy. You'll need to be fully familiar with the assets you already have before you can reconfigure them. Additionally, understanding your asset inventory will help you implement new technology as part of the process as needed.
There are many different pieces to assess as part of this inventory. This includes all of the servers and data centers you use, including cloud environments, as well as all of your hardware, software, and utility equipment. This asset inventory should also note how all of these components currently interact with each other, who uses them, and any contracts that you have that are related to them. Your IT personnel can also be considered part of your assets.
This asset inventory can be a significant time commitment. However, this process must be completed before you can move onto the next step of your IT strategic plan.
Site Environment
The next step is to determine what type of site environment your company needs and where your data will live. Most other decisions in your IT roadmap will stem from this decision, so it is not one to make lightly.
In recent years, many companies have opted to store all or part of their data in the cloud. Cloud technology minimizes on-site maintenance costs and allows your team to access data from many different work locations.
The most common alternative to this is to store your data in a physical data center, whether that's on-premise at your company's offices or off-premise in a remote data center. There are benefits and downsides to both approaches; ultimately, you'll need to decide what makes sense for your company in terms of security, cost, and efficiency.
Many companies also use a hybrid approach where some data is stored in the cloud and other pieces of data are stored in a physical data center. In this situation, the physical data center can also be used as a backup for your cloud storage.
Security Requirements
The next step in this IT assessment is to determine what type of security you need for your IT frameworks. Data breaches and other cyber attacks are unfortunately common across a variety of industries, and your digital security systems are an essential protection against these threats.
A good place to start is by reviewing the compliance standards you need to meet for your industry. Many industries have specific privacy and security compliance laws that you will need to adhere to. Additionally, your city or state may also have compliance laws in place to follow.
At the very least, your company will need an antivirus software program and a firewall. You may need to bring in an outside expert to implement these security requirements if you don't already have one in your department. Most organizations need more complex security systems to protect against modern cyber-attacks.
In addition to constructing a secure network, your strategic plan should also address best practices for your team to use to prevent cyber attacks in the future. This is particularly important as more employees are working at home or while traveling. These best practices may require employees to have strict passwords or work from private networks, for example.
Identifying Servers, Devices, and Storage
Your servers are arguably the most important component of your IT ecosystem, as they provide storage for your most important data and keep your systems running. In your IT strategic plan, you should identify every server that you have and how it interacts with the network as a whole. This can also help you identify where you might need to add or reconfigure servers in the future.
On top of that, you'll need to take inventory of all the devices used as part of your operation. This includes computers, tablets, and phones, whether they're company-provided or employee-provided, as well as any onsite video equipment, IOT, printers, scanners, and more. This will give you the information you need to add or reconfigure devices as your company evolves.
Interfaces
Now that you have taken full inventory of the technology you have and how it works, you'll need to determine how your employees and customers will access these resources. What interfaces will they use to access key workspaces and data, and how will these interfaces be structured? Who will have access to which interfaces?
Web and mobile interfaces are most common, but some team members may also need to use terminal interfaces or other types of interfaces to complete their jobs. Within your strategic plan, you will need to identify which interfaces make the most sense for your work and how you will maintain them.
Transport and Delivery
The next step is to identify how your data will travel from point A (your servers) to point B (your interfaces). There are many different ways this can happen, including hard-wired internet access points, WiFi networks, telephone networks, fax, and more. These networks can be very complex and should be appropriately defined as part of your IT strategic planning initiatives. Your IT department will also need to define how these data transport methods are maintained.
Personnel and Management
Your employees are another key component of your IT strategy. You will need to define how each team member accesses your system, both within the IT department and outside of it. Additionally, you'll need to determine what management roles you'll need in place to achieve your goals. As you work to bring your shared vision to life, you may find that you have to restructure or redistribute duties among your team members.
Costs and Budget
The final step in your IT strategic plan is assessing the costs associated with your IT configuration and developing a budget to use moving forward. This could include equipment costs, maintenance costs, staffing costs, licensing costs, and more. These costs may also evolve over time, so your strategic plan should also address these potential changes.
Final Thoughts
Putting together an IT strategy plan sets your organization on a clear path to success. By outlining exactly what technology you have, what technology you want to implement, and what your goals are, you can ensure that every team member is on the same page and prevent confusion. Your IT strategy plan can also help you bounce back more quickly from any setbacks you might encounter.